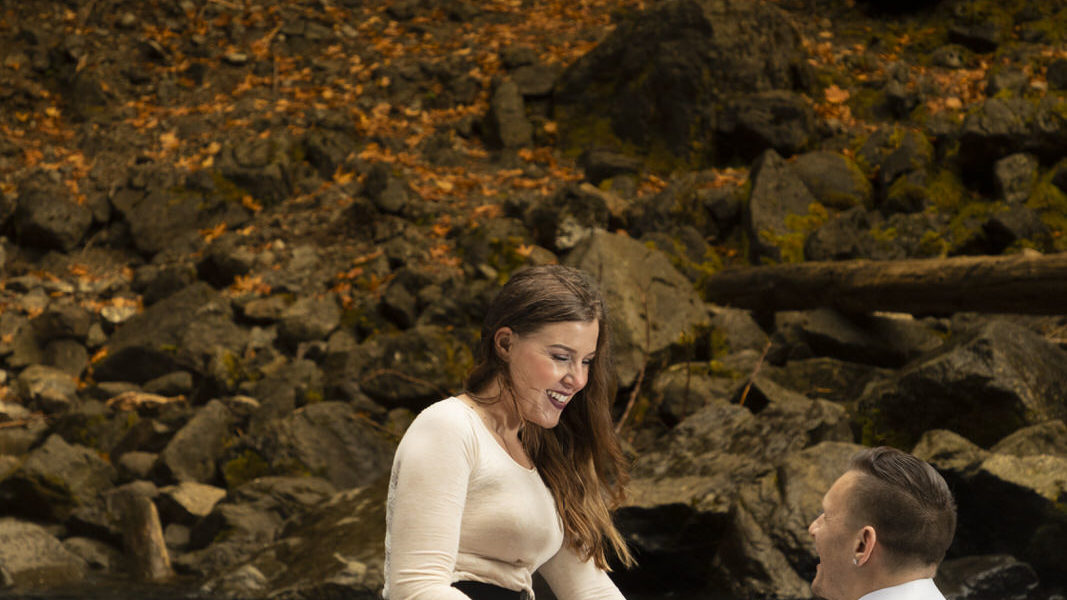 Engagement . Photography . Wedding
Waterfall Engagement – Gig Harbor Wedding Photographer
On October 18, 2020 by Perfect Balance
Waterfall Engagement – Gig Harbor Wedding Photographer
It is every wedding photographer's hope, to be able to be a part of their couple's engagement sessions, even more so when it is a surprise waterfall engagement! Sherman had originally contacted me to photograph headshots for his job search. We had a great session, and got along really well. He told me all about, how much he adored her and really thought she was something spectacular.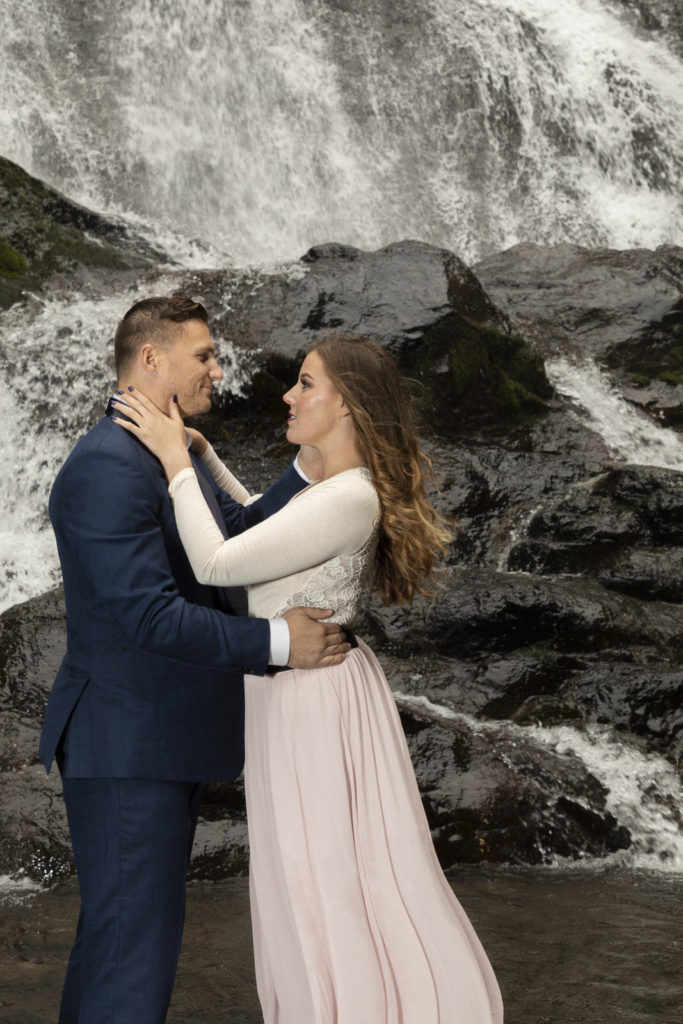 During his headshot session, we talked about setting up another session for him and his girlfriend. Over the next few weeks, we planned out a great waterfall location, wardrobe, styling and all the fun things that go along with a dramatic couples session. The morning of our day trip to the waterfall, Sherman texted me that he was planning on proposing to Cheyanne at some point during our photo shoot.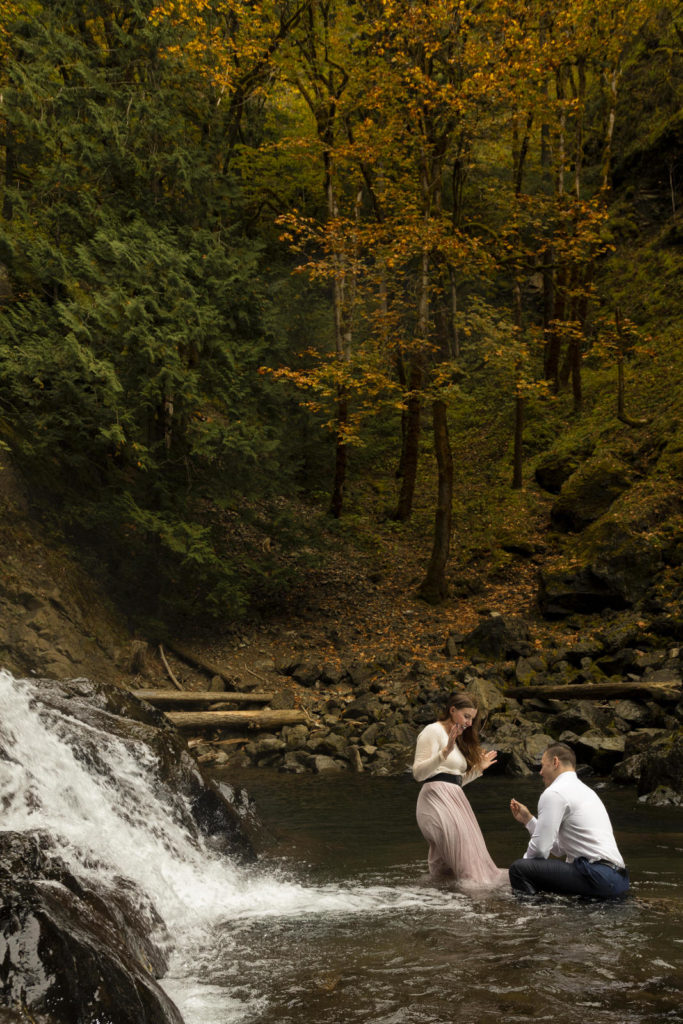 I could not believe my ears, this was so exciting period we chatted back and forth about how to make sure the ring did not fly away or get lost in the waterfall. It was a covert mission at its best. We planned out signals to let him know when he should get down on one knee, all the while standing at the base of a waterfall, and propose to his love.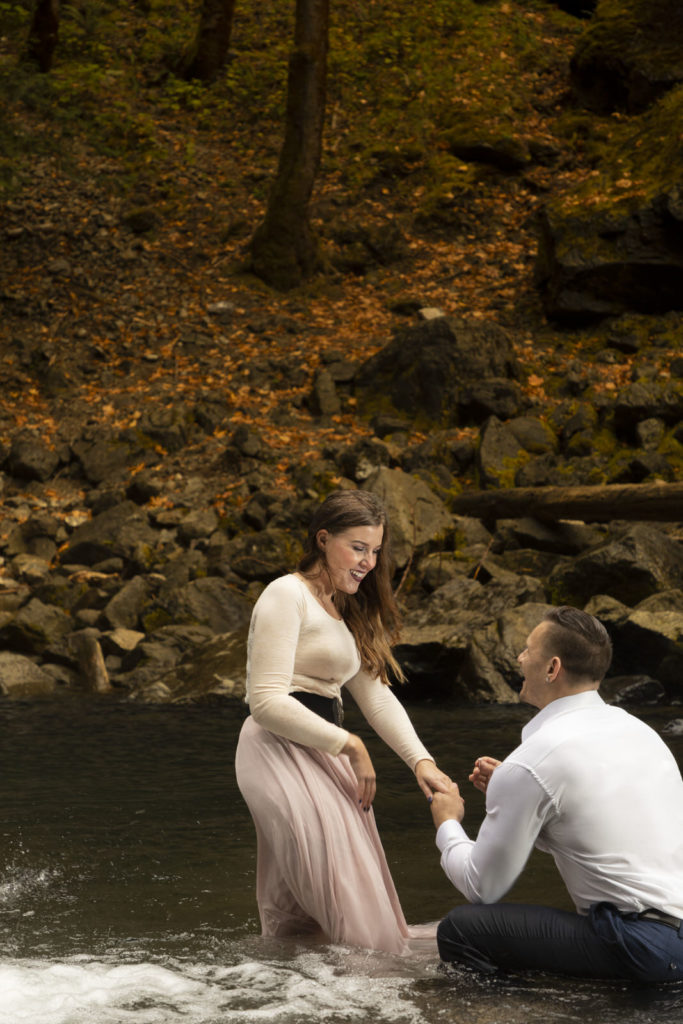 As my son, and lighting assistant that day, Brandon and I started to gather our gear for the day, we discussed how to make sure we could pull this whole thing off without Cheyanne finding out about it. Successfully getting the ring from Sherman was fairly easy, I just had Cheyanne come over to my car to discuss wardrobe since she was wearing a skirt from my Client Closet. Brandon and Sherman talked about securing the ring and the signals we would use.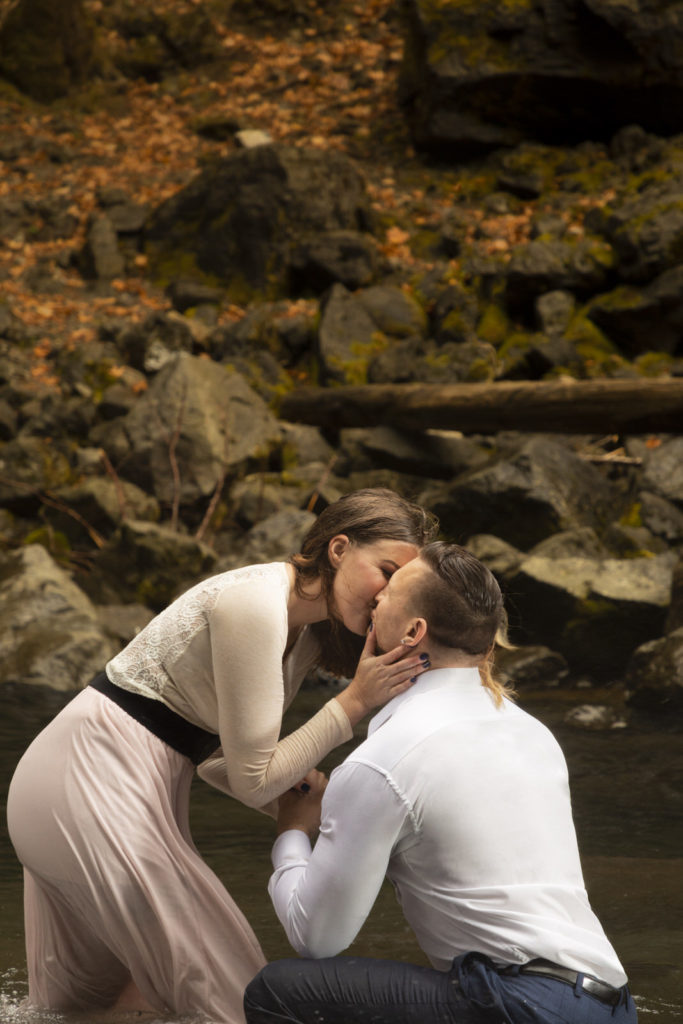 Sherman was so excited, that we didn't get but a handful of images in and he came back to ask if we could make it happen. Brandon and I set up the GoPro to capture the event on camera while he took charge of the lighting and I snapped away. In the video, you can see I'm trying not to pay any attention to Sherman all the while trying to keep Cheyanne distracted.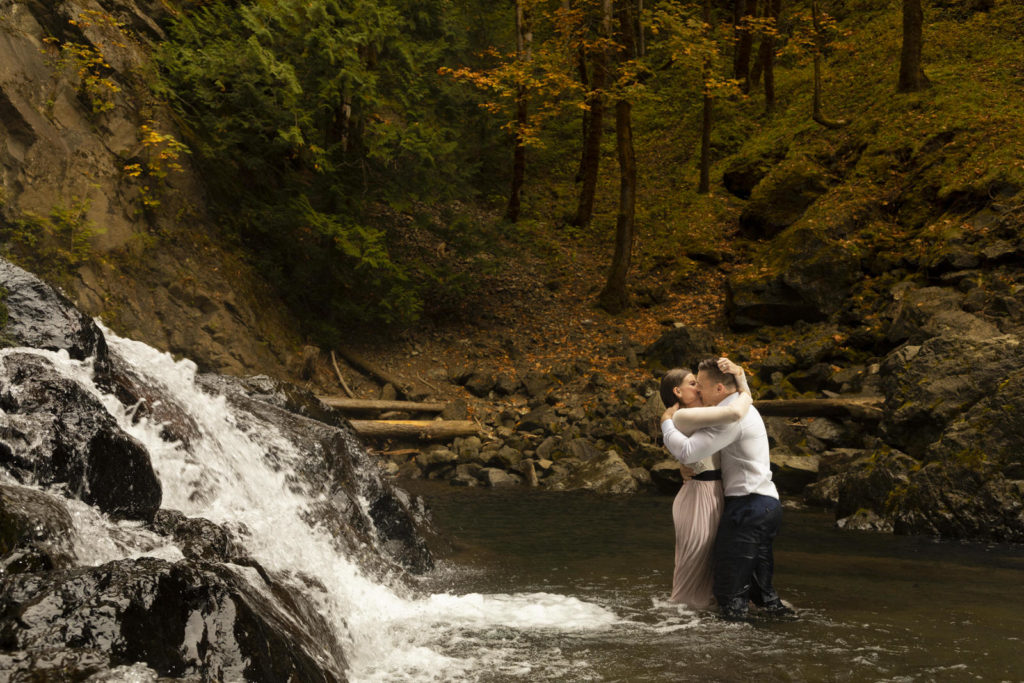 Sherman gingerly walked over to where Cheyanne was standing at the base of the waterfall. As he dropped to one knee, you could see the shock and surprise on her face. It was an amazing moment to witness. Although we couldn't hear a word over the rushing sounds from the waterfall, you could easily understand the love between the 2 of them and what was happening before our eyes.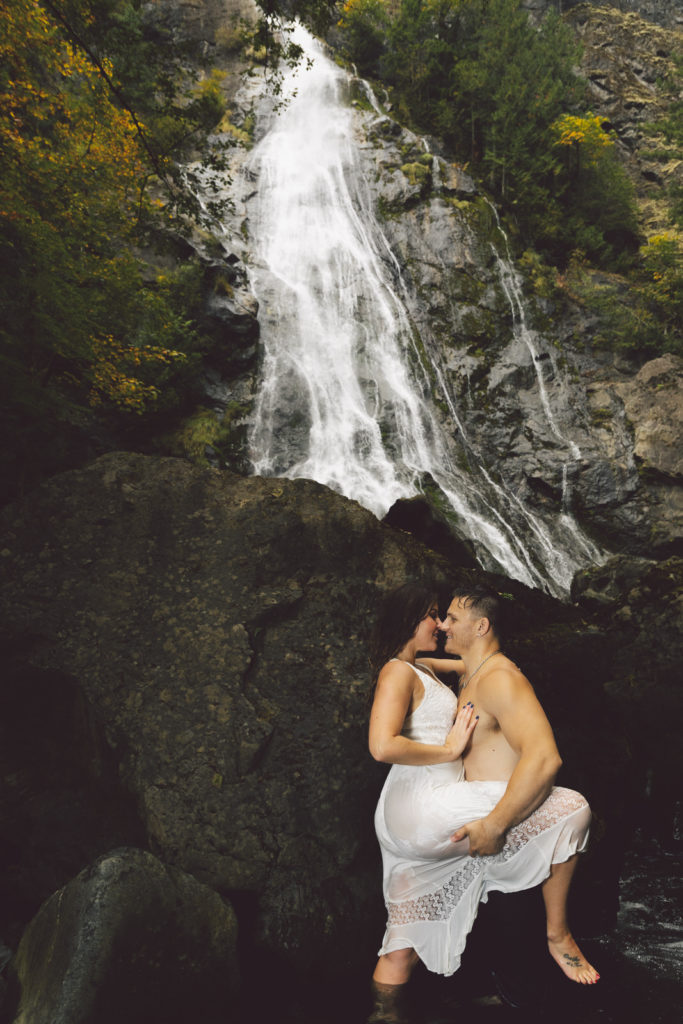 There were cheers and applause from nearby spectators. We captured a few more images at the base of the falls, made an outfit change and switched over to one of the smaller pools at the falls that was a little more secluded and private. We knew ahead of time at Sherman and Cheyenne wanted to do something a little sexy and steamy for this session.
It was a wonderful afternoon in a gorgeous setting with two people who are absolutely in love. We wish that nothing but the best on their new adventure in Ohio as a happily engaged couple. We cannot wait for their wedding day and hope to share those images with you when it happens.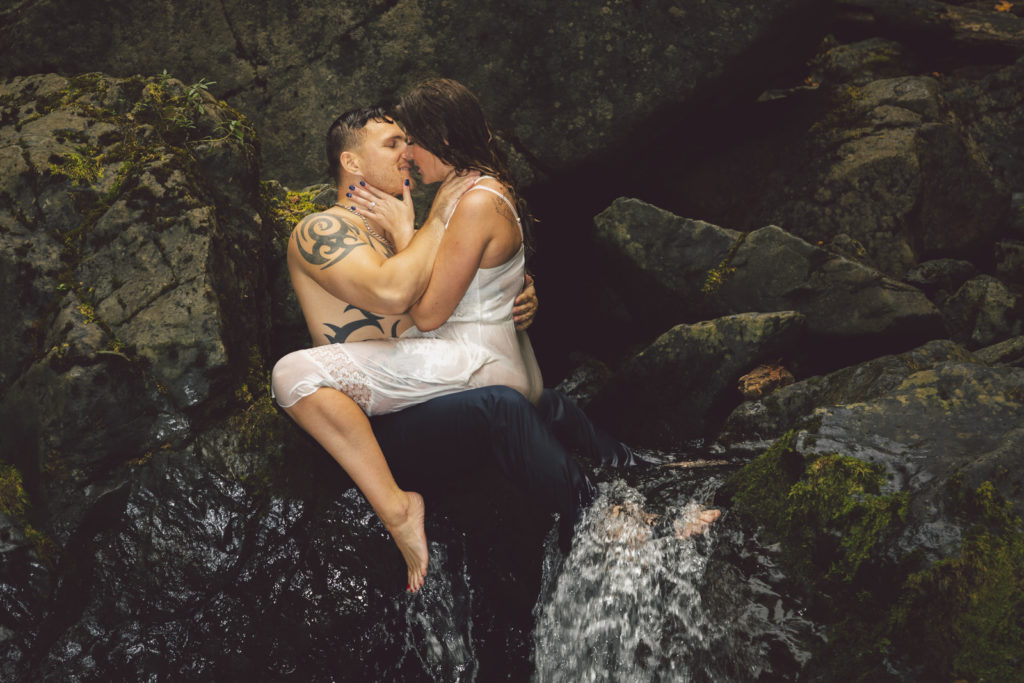 Ready to schedule your waterfall engagement? Drop us a line and we will get you all set up.