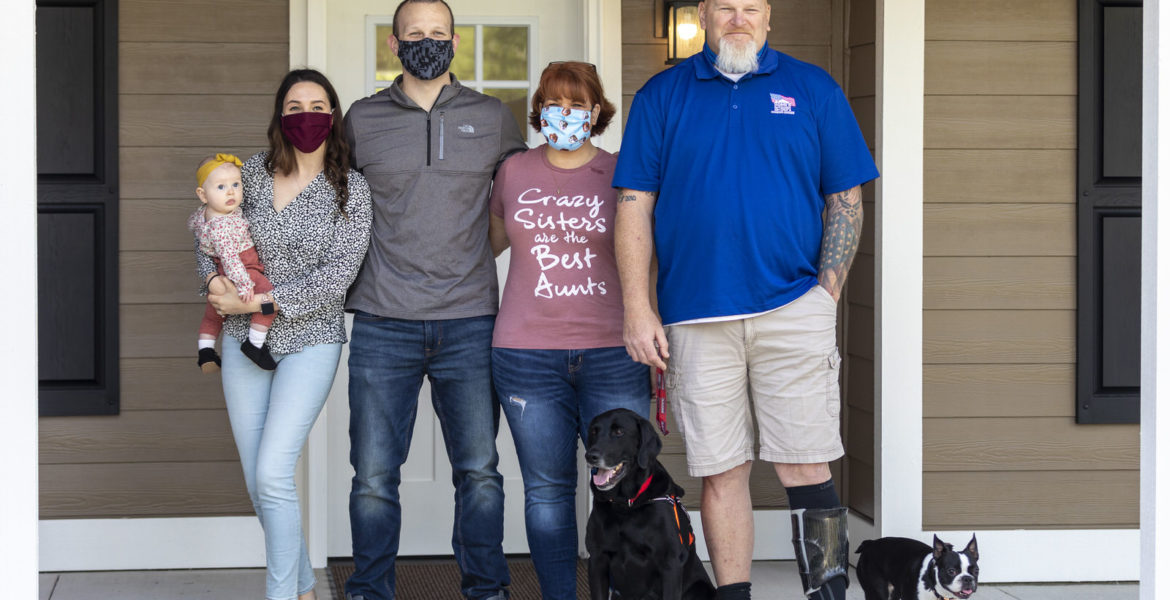 Photography . Real Estate
Homes For Our Troops – Gig Harbor Portrait Photographer
On October 14, 2020 by Perfect Balance
Homes For Our Troops – Gig Harbor Portrait Photographer
Anyone who knows me personally, knows that I am an avid supporter of our military, so when I received a late night message from Mell at Homes For Our Troops, I knew I was going to do everything in my power to contribute to their event. Mell and I exchanged a few messages back and forth and went over the details for the event. As she laid out the specifics about Homes For Our Troops, the veteran SSgt. Keith Sekora, and what they do for our injured vets, I was even more excited to participate.
The Key Ceremony, is the presentation of the completed home to the vet and their family. These homes are filled with helpful and adaptive features that make a life changing difference in the recipient's lives. Some of these are so awesome, that you might even want them in your home.
When we arrived at the property, the first thing I noticed was the flat and level lot, with a wide concrete path that wraps the entire home. That might not seem out of the ordinary to you, but have you ever tried to walk around the outside of your home on crutches or roll in a wheelchair? It becomes far more important when you have that limitation.
My son Brandon, joined me at this event to not only lend a hand, but to support a fellow Air Force member. Brandon is always willing to help me and even more so when it comes to helping his military brethren. We walked up to the house and popped in through the garage. We stopped and immediately noticed the 2×4 framing around each of the windows. Each piece of wood was adorned with well wishes and signatures from the kind folks that helped build the home. Taking a moment to read some of the messages, it was obvious to see that there was a love and dedication from each one of those names.
Once we walked in, we were greeted by RET. Brigadier General, Tom Landwermeyer, the President and CEO of Homes For Our Troops, and Mr. Miller, of Miller Construction. Mr. Landwermeyer and Mr. Miller were in the final stages of putting the finishing touches on the home.
Mr. Landwermeyer gave us the grand tour of the home, making sure that we knew all of the adaptive features of the home and how it would be beneficial to the veterans who received them. So many little details that the average person wouldn't think about being a necessity, like the outlets in the closet for prosthetic limbs, lower placed ovens and microwaves, tilting mirrors and flat door thresholds.
After the tour was finished, I grabbed my gear and started photographing the home, Brandon grabbed some video and Debbie set out to capture candid shots of everyone. Just as I was finishing with the exterior images, SSgt. Keith Sekora and his family arrived.
It was a great moment watching him and Mr. Landwermeyer cross the drive and head to the front door, only to have a spitfire ball of energy come running towards them. Keith's son, daughter-in-law and granddaughter had arrived and left their Boston Terrier in their car with the window rolled down. Turns out that the little pooch decided she didn't want to wait in the car and made a bee-line for Keith's service dog. It brought a smile to all of us as we tried to carry on with the ceremony.
We stood in front of the house and listened to Mr. Landwermeyer tell us about SSgt. Sekora's service in the Army, then as a police officer, and finally as an EOD Technician in the Air Force. He spoke of the challenges of building this home, and others, during the time of Covid. Mr. Landwermeyer conveyed his reasons for building these homes and his dedication to Homes For Our Troops.
Then it came time for the flag ceremony where the Homes For Our Troops flags is taken down and replaced with Old Glory, a proper salute and the Pledge of Allegiance.
SSgt. Sekora stood at the entry way to his new home, said words of thanks an appreciation and cut the yellow ribbon.
I stood inside the home, waiting to capture the look on his face and emotion when he first entered it, poised and ready with my camera in hand. Instead, I had a 90 lb. Black Lab barreling towards me through the front door and a happy Keith following behind.
The Sekora family were shown all around their new home, the awesome features, the adaptations, the comforts and necessities that the home offered them. It was great to see Keith take note of certain items that were of interest and importance to him, and how they would help him in the future.
Mr. Miller, the builder of this fine home, presented Keith with a wonderful housewarming gift of bread, "so this house will never know hunger, salt, so this house will always have spice for life and sparkling cider, so there will always be something to celebrate."
This was such a great and wonderful experience for our team, and we were so honored to be a part of it. We hope that the Sekora family enjoys their new home and finds peace of mind in all of the adaptive features.